About
The head Pokémon Professor of the Ko Region, Prof. Golden studies shiny Pokémon and the odds and techniques to encounter such Pokémon.

She originally worked in the Marron region as an assistant for the Professor there. Now she has her own laboratory in Kona Port, though she is rarely there as she is almost always out in the field looking for shiny Pokémon.

She provides a choice of three starter Pokémon, Newteaf, Calignus, and Rainamba to beginning trainers in the region. In the Ko Region one must be 16 to obtain a starter Pokemon.
Pokémon
| | | | | |
| --- | --- | --- | --- | --- |
| Image | Level | Ability | Moves | Item |
Crippsii Golden
"Are you a boy or a girl?"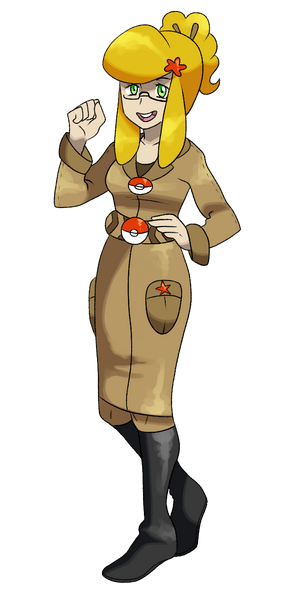 "Official" Art by Spiffee
| | |
| --- | --- |
| Age | 31 |
| Gender | Female |
| Eye Colour | Green |
| Hair Colour | Blonde |
| | |
| --- | --- |
| Trainer Class | Pokémon Professor |